Some cool Super Bowl 50 images:
Home sweet home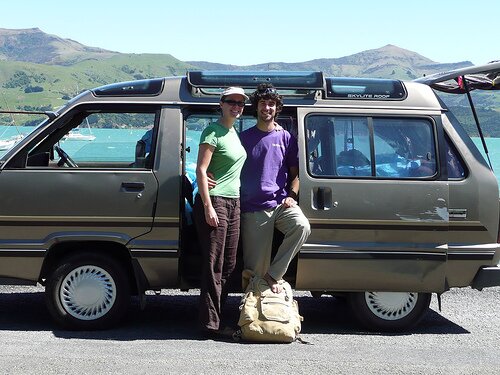 Image by Seth Mazow
We bought our campervan from Antony at Chester Street Backpackers in Christchurch for NZ ,550 (approximately US ,970). It's a 1988 Toyota Town Ace 'Super Extra' with about 275,000 km (about 170,000 miles) on it and more than a few dents in the sides and front, which we think give the van character.
It's fairly common practice for travelers to buy old vehicles here and use them to tour the country, then turn around and sell them to a fellow traveler to do the same. We'll be looking to sell our van right around the start of summer here, which is apparently the best time to sell a van because of the high demand. Our hope is that we can at least make back the money we paid for it. We had to pay cash for the van, so we hung around Christchurch for several days withdrawing the daily maximum from the ATM until we could get enough cash.
It didn't come with any cooking equipment, so we were told we should go to a place called the Super Shed to find what we needed. It was described as the last stop before the dump, a place for people to bring household items that they would otherwise throw away. Many items are also salvaged from the trash and cleaned/polished/fixed up. Based on these descriptions, I was pretty hesitant to go there to purchase the items we'd be using to prepare our food. I pictured a huge warehouse with piles of trash that we'd have to pick through. Seth, on the other hand, was thrilled by the prospect of such a place and convinced me that we should take a look.
He was totally right. Although everything needed a thorough scrubbing, we got some incredible bargains and walked out with all of our cutlery and an organizer, two kitchen knives, bowls, plates, cups, mugs, a can opener, a bottle opener, a straw basket, two camping chairs and a sun umbrella for a grand total of .50. My personal favorite section was the '10 items for ' aisle. None of the outdoor furniture had a price on it, so you had to just find an employee, show them what you had picked up, and they would eyeball a price. We still had to purchase some cookware that we weren't able to find at the Super Shed, but we left that place with huge smiles on our faces.