Low-Fat Fitness Energy Bars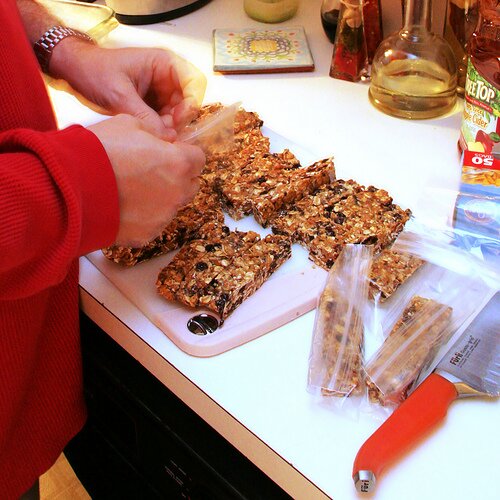 Image by Dave77459
I have found that after our move, the new commute has been a killer on my waistline. Even if I eat before leaving (admittedly rare), I am hungry just as we pass the fast-food center. If it's not a McSkillet Burrito, it is a chorizo breakfast taco at Chachos.
My doctor recommended getting some energy bars to keep at the office, to give me something healthier to munch on when I get to the office. But when we went to the healthful food Mecca called Whole Foods, I couldn't bear to spend the money. The bars there can be over each, and still have polysyllabic chemical-sounding ingredients.
So instead, we have been making our own low-fat fitness energy bars. They are super tasty, easy to make, and probably cost around each. The problem we had was thinking a batch (about 24 bars) would last a week. Once my daughter found them, they were gone. They simply evaporated, almost overnight. She's hungry too in the morning, and after school, and during volleyball. We're glad to make more, since the alternative is toaster strudel or a bag of chips. It's a nice problem to have.
Anyways, here is the recipe. The online source (printable) is here. The really strange ingredients we found at Whole Foods.
Low-Fat Fitness Energy Bars
1 1/2 cups rolled oats
1 cup crispy brown rice cereal
1/4 cup sesame seeds
1 1/2 cups dried unsulfured apricots
1 1/2 cups raisins or currants
1/2 cup nonfat protein powder (we use vanilla)
1/2 cup toasted wheat germ
1 cup brown rice syrup or light corn syrup
1/2 cup granulated sugar
1/2 cup reduced-fat peanut butter
1 1/2 teaspoons vanilla extract
1/2 teaspoon cinnamon
1. Preheat oven to 350 degrees.
2. Spread oats, cereal and sesame seeds in a 13" x 9" nonstick jelly roll pan.
3. Bake, stirring occasionally, until oats are toasted, about 15 minutes.
4. Meanwhile, chop apricots (use the food processor); transfer to a large bowl.
5. Add raisins, protein powder and wheat germ; toss with hands to mix.
6. Lightly coat jelly roll pan with cooking spray.
7. In a heavy saucepan over medium-high heat, combine rice syrup and sugar; bring to a boil.
8. Reduce heat to low, stir in peanut butter, vanilla and cinnamon.
9. Quickly pour syrup over oatmeal mixture and stir well.
10. With wet hands or spatula, immediately spread warm mixture into the jelly roll pan, pressing into a thin, even layer.
11. (Caution, if you work too slowly, the mixture will harden and be difficult to spread). Chill until firm, at least four hours.
12. Cut into 2" x 3" bars.
13. Bars can be wrapped individually in wax paper or foil, or stored in an airtight container with waxed paper between layers.
14. They can be refrigerated for up to four weeks, or frozen for longer storage.
From: http://www.recipezaar.com/recipe/print?id=3710 UPDATED LINK.
"Our Tips"
We couldn't find toasted wheat germ, so we just add it to the other things being toasted.
Most apricots are sulfured to preserve them. We find unsulfured apricots at Whole Foods. We also get the protein powder, brown rice cereal, and brown rice syrup at Whole Foods.
Jamie does the syrup stuff while I chop the apricots in a Magic Bullet mini-chopper. We are both about done when the toasted stuff comes out of the oven. Update: this last time I used the full-fledged Cuisinart; even allowing for more cleanup time, it was faster, far easier, and the resulting chop was better.
I mix the raisins and apricots with the protein powder. That coats these sticky ingredients and makes working the other stuff in easier. I also look to see if the chopper left too-big chunks.
As a variant, I will sometimes swap out craisins (dryed cranberries) for raisins (1/2 cup craisins and 1 cup raisins, or 50/50 or 2/1, as the mood swings)
Although it is confusing, basically you add the rest of the dry stuff (not the syrup/peanut butter stuff) together. Then we add the syrup and mix like crazy. Hands sprayed with PAM are less sticky.
Put all the stuff in a PAM-coated 9×13 (ours is Pyrex). I work it into a consistent thickness, cover with wrap, and stick in the fridge overnight.
In the morning, I cut into 1"-wide strips, then cut the strips in half to make bars. Each bar goes into a small snack bag.
Total time, about 1/2 hour.
ESPN FPI projecting Cardinals, Patriots to play in Super Bowl 50
WHITE SULPHUR SPRINGS, W.V. – There's still 11 games to be played, but the statistics are projecting the Arizona Cardinals to play in Super Bowl 50 after the first five weeks of the season. Against the New England Patriots. ESPN's Football Power Index …
Read more on ESPN (blog)
Super Bowl 50 showcase
The trophies came to Pacifica, courtesy of the Super Bowl 50 Host Committee. It was a mobile exhibit designed to celebrate the history of the Bay Area's championship teams. With eight Super Bowl wins, we are the only metropolitan area in the country to …
Read more on San Jose Mercury News
The World's Smartest Stupid Sports Blog
With 20 weeks left until the Super Denouement and the NFL season two weeks old, I figured this would be a good week to update my savvy and profound outlook of the Santa Clara Six, the half dozen teams I deem most likely to appear at Super Bowl 50 in …
Read more on San Jose Mercury News (blog)
Deadheads too stoned for Super Bowl 50?
While the NFL mulls candidates for its Super Bowl halftime extravaganza, one made so obvious that it has been overlooked until recently. What better way to celebrate 50 years of the Super Bowl than with the Bay Area's own Grateful Dead, who will …
Read more on San Francisco Examiner